We have now proved our cost of feed with our technology is more profitable then own feed manufacturing by cost and performance.
We have been developing very latest kind of technology of heat, enzymatic, and chemical treatment to give added advantage to Layer Nutrition which really helps in reducing the cost of feed per egg. Soya bean meal / G.N. Extraction / DCP / Fish meal can be replaced by newly developed value added raw material. Depending on customers need and cost advantage we can work on very economical formulations without affecting the performance. We have now in our stocks the value added raw materials like chemically treated MBM (Meat and Bone Meal), enzymatically & heat treated Guar Meal, toxin free DDGS AND rice gluten also heat treated Rapeseed Meal. In few months we will publish specifications of these value added raw materials along with recommended formulations. We assure there will be substantial cost advantage with these value added products.
Feeding layers is really a challenge because of lower egg price, increase in price of various Raw- materials, the changing requirement of layer by their age and also the variable quality of raw materials, VRK Nutritional Solutions have come out with unique. Layer feeding programme to optimise the performance with best possible feeding cost per egg.
We recommend maintaining the weight of the bird at its optimum as suggested by the breeders right from the day old chicks. The initial weight gain of the chicks approximately 600gm in 8 week by consuming about 1.7 Kg of chick crumbs will give optimum egg production, Good health status; maximum livability should give maximum returns. Feeding chick crumbs for 8 Week means assuring better performance later, healthy digestive system and good body development.
After chick crumbs you can feed grower crumbs or Grower mash from 9thweek to 18th week. This stage is very important because future performance is based on whether overweight or underweight as both are dangerous. The good feed is the key to control it. The ovary and reproductive system is developed during this stage which means any infection or unhealthy conditions may affect reproductive system development which is responsible for egg production.
From 19th week to 20thweek we recommended to go for Prelay feed which should give minimum 2 % of calcium and some higher levels of phosphorus and vitamins which induces the egg production very fast.
From 21st week once you got about 10% production you can start with layer-I which can be given up to 35 weeks, that is peak stage of production. During this stage the peak production of eggs means more protein and amino acid requirement and also the size of the egg. The feed consumption during this stage is slightly less than the matured birds. To compensate this we advise to give at least 17.5% protein.
In Stage-2 layer feeding which starts from 36th week to 55 week the protein can be reduced to 16.5% (Consider amino acid requirement also) and also the energy since the feed consumption will be slightly more.
From 56th week to end of the flock the layer Stage-3 is advised with only 15% protein, and 2400 Kcl/kg of energy, this will avoid oversize eggs and also produce the egg as per breeders manual..
FOLLOWING TIPS CAN IMPROVE YOUR PERFORMANCE
) Clean and hygienic water all time is must.
) Do not fluctuate your lightening programme and make a fix schedule
) Keep watch on body weights at least every fortnight, you must compare with the standards and if variation is more consult Nutritionist to adjust feeding programme.
) Never miss the de worming programme.
) You can use 2- 3 Grain sources with maximum use of 5% broken rice and 10% Jawar or Bajara. Keep minimum 40 % maize if possible use Rice Polish (Min 16% oil) up to 5 % replacing grain, to avoid dusting. To reduce dusting as it affects consumption in summer, you can also go for MOP (moisture optimising programme). MOP leads to better digestibility of feed, reduce dustiness and save process loss in mash feed.
) Observe water consumption V/s feed consumption the ratio should be between 2 to 2.5 rectifies if this is not achieved.
) Check calcium levels in shell grit or marble grits. Top dressing is advised of calcium level is less than35% in Grit.
) Summer feed should be different from winter and monsoon, Emphasize more on amino acids than protein. Use easily digestible Ingredients. Use soda bicarb as a source of sodium rather than salt. Adjust moisture level in the feed by using MOP.
) Use phytase and other enzymes correctly& judiciously to avoided excess or deficiency of both calcium and phosphorus along with other trace- elements.
) Rodent can take away 2.5% of your profit so check rodents infiltration effectively. VRK Nutritional Solutions have various products for layer feeding in standard form.
We also have the services for feed formulations along with premixes depending on the Raw-material availability locally. We analyse your raw materials and then provide you the least cost combinations.
Depending on the Raw-material prices especially maize and DORB we constantly change our recommendations for concentrate usage. The concept behind this is to reduce the cost of feeding per egg of production.
At any Cost we advise it's better to use chick crumbles for eight weeks.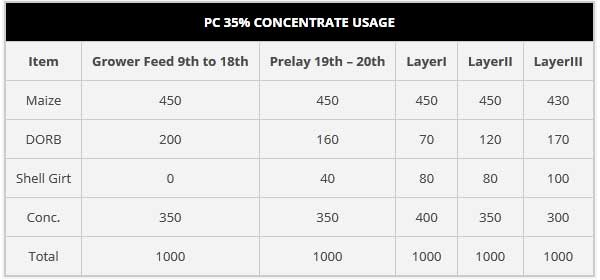 Please check every lot of DORB for Protein, Fibre, Ash, AIA and moisture lot of adulteration is observed in the last season because of price and less Production. Recommended standards for DORB are moisture max 10%, crude protein min 15%, Fibre max 14% & AIA (Sand Silica) max 5%.
Please check coccidiostat to be added in Grower feed if the birds are on litter system.